The Summer of Love at The Pink Containers
August 8, 2019 @ 7:00 pm

-

9:00 pm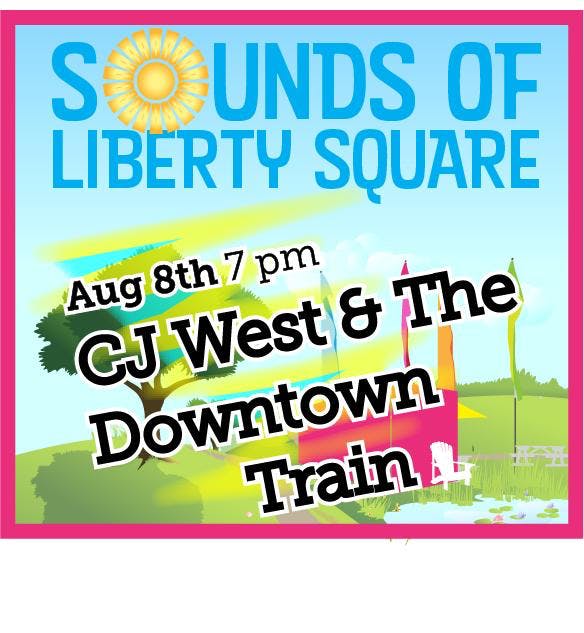 Experience the sounds of Woodstock at this tribute the Summer of Love with CJ West and the Downtown Train. The Sounds of Liberty Square is an outdoor concert serries in Norwalk, CT. The music starts at 7 pm, but come early to grab your spot on the lawn, BYOB, bring your chairs, blankets, beverages, snacks and bug spray! Constitution Park is located in Liberty Square, at the foot of the Stroffolino bridge as you head into SoNo. parking is availabel (50 cents an hour) in Liberty Square, or Free parking accross the street in Veteran's Park if you are a Norwalk Resident, or dine in SoNo and park at the IMAX parking lot. 
CJ West and The Downtown Train plays country, rock, rhythm & blues and "whatever!"  They LIKE so many different styles of music, it would be a shame to limit what they play to one genre. The Downtown Train plays kickin' country music, classic and modern.  Most of the band has rock and roll roots so mixing that in was a no-brainer.  Then…..there's a lot of great other stuff out there…..and decades' worth!  CJ West and The Downtown Train is always taking you somewhere! Sometimes they take you to summer country concerts, line-dancing parties or redneck weekends.  Other times, they mix up a whole brew of music to keep everybody dancing.  Lately, The Train take crowds to Woodstock, a tribute to the bands who graced the stage at Woodstock 1969.  Whatever trip they're taking you on, The Downtown Train's talented instrumentalists and well-blended voices add up to a unique, danceable and fun musical experience!
The Pink Containers are two brightly painted shipping containers located in Constitution Park overlooking the Norwalk harbor. A gentle slope provides seating for picnics and hangouts while events happen at the Containers.